View menus, split & pay tabs, leave reviews all from your phone.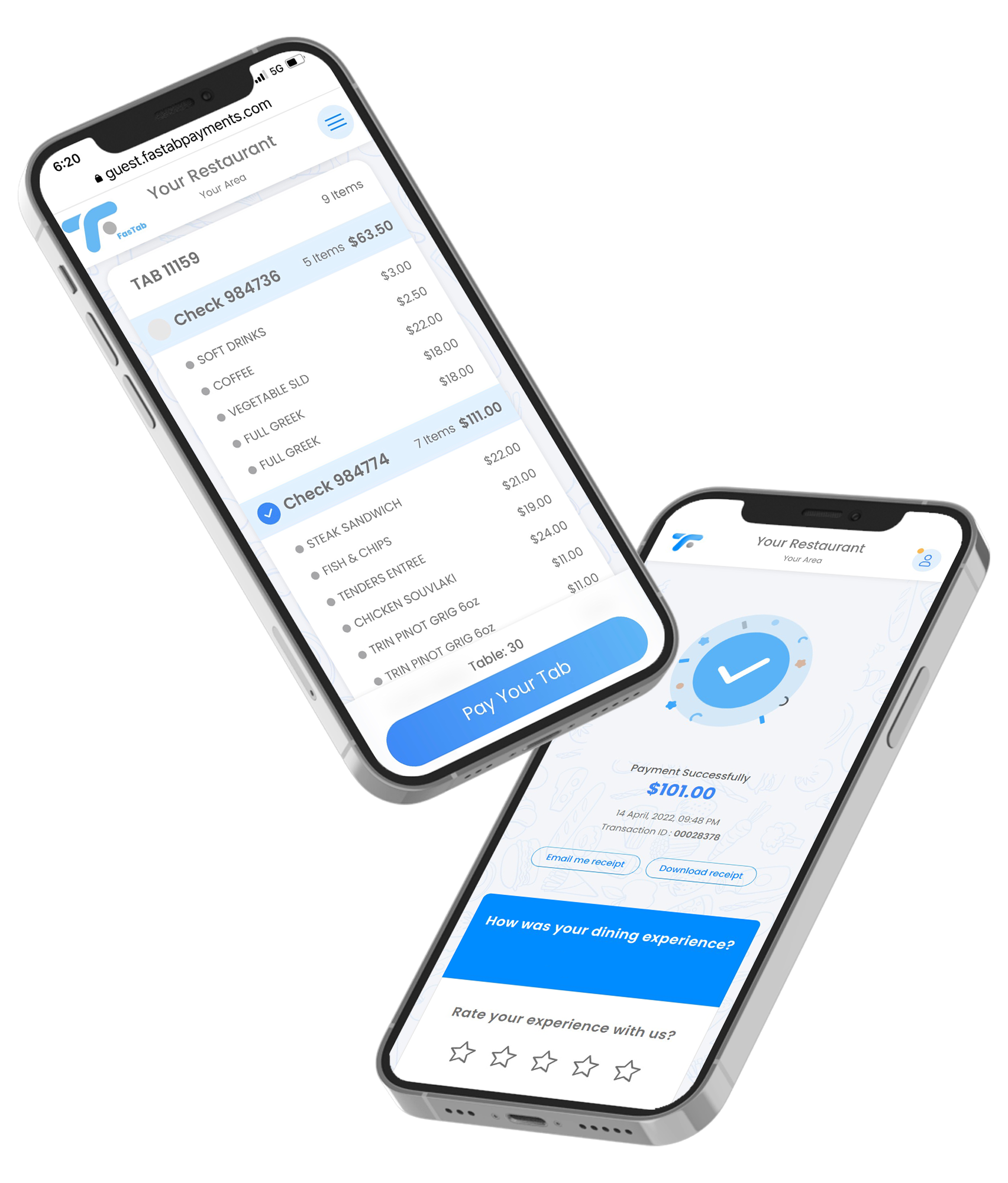 No apps, tablets, or downloads needed.
Fill out the form to reach our team.
0
X Faster Table Turnover
No waiting around
Let your guests view your menu as soon as they sit down, and pay as soon as they're ready. No waiting on staff to start or end their experience.
Pay & Split the Tab
Your guests can view their bill in real time, settle from their phone whenever they're ready, and receive an e-mailed copy of their receipt when they've settled up.
Leave Feedback
Go beyond generalized data and understand your guests on a personalized level. Get real-time reviews from every guest at every seat, and turn first-time guests into regulars. And use FasTab to keep negative reviews in-house where they can be addressed properly, while sharing positive reviews online.
""I went to dinner with a couple of friends before a concert. Getting to use FasTab at the table completely took the stress out of leaving on time. We ordered food and drinks right up until we had to leave, settled up on our phones and hopped in a cab. I will definitely be using it again!!""
Adam
FasTab Customer - The Wood Tavern
"Five stars forsure. My tables order more, tip more, and turn more with Fastab. Plus I get more time to talk with them and convince them to come back and see me again. I wouldn't go back to working in a restaurant that doesn't give servers this tool."
Emma
Server
Earn Higher Tips
Servers earn on average 30% higher tips on each table through FasTab.
Serve more tables
Tables turn over 5x faster on average through FasTab. That means more customers through your restaurant every shift.
Focus on what matters
With FasTab, servers can focus on the serving experience and take the time they used to spend facilitating transactions to build real, human connection.
Make more Money
Restaurants that use FasTab earn on average 20% more per bill, and turn tables 5x faster. That's serious cash, in your pocket.
Wow more guests
Collect real-time reviews from every guest. Get notified about negative experiences and keep them in-house so you can address them, while guests with positive reviews are automatically invited to share them online.
Up and running in no time
No apps, no tablets, and no downloads needed. Just reach out and our Support Team will have your restaurant up and running right away.